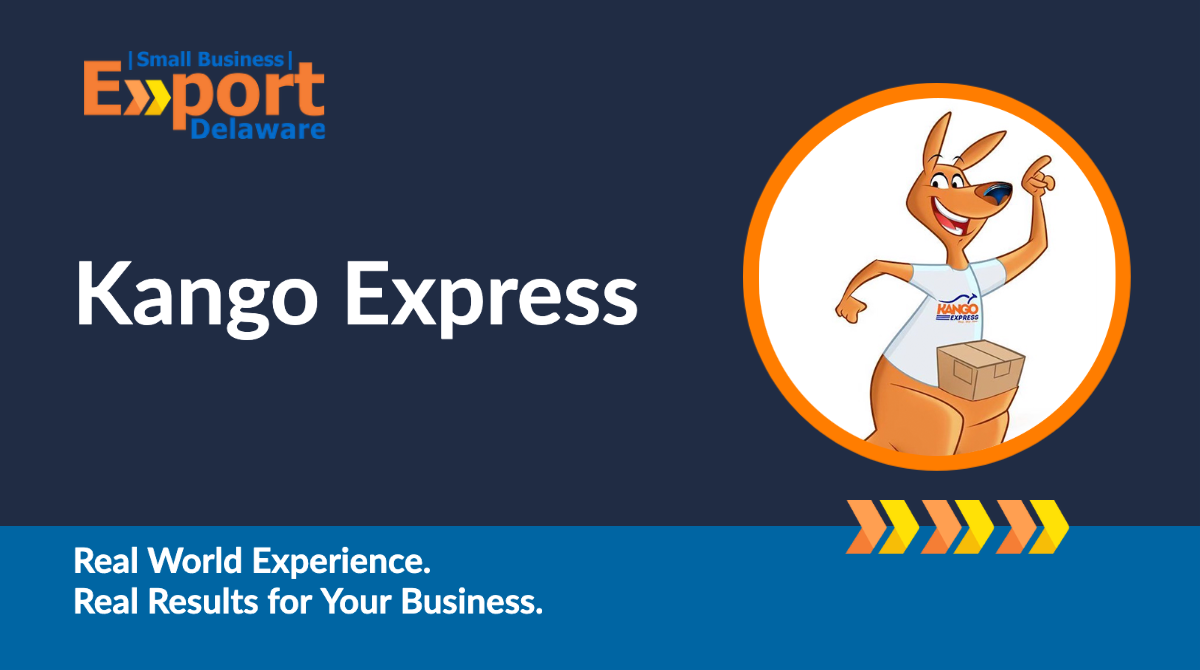 With the Right Partners, Exporting is Simple
1/14/2022
Kango Express has grown into a global company with nearly a dozen partners worldwide in just a few short years. How did they do it? Gen Clark, Chief Operating Officer for the company, says, "It's all about finding the right partners."
Located in Newark, Delaware, Kango offers affordable consolidation shipment and mail forwarding options to online shoppers all over the world. One of the founders developed the concept while living as an ex-pat overseas in Azerbaijan. Friends and family often wanted to send care packages from home, but the shipping costs were high. Kango was born as a solution so that those living abroad could get American-made products sent to them at a lower shipping cost.
In 2016 the company moved to Delaware. "We wanted our customers to enjoy a tax-free online shopping experience and to be closer to JFK, one of America's major airports," says Clark. Now Kango Express serves customers all over the world, and their warehouse is buzzing with packages being shipped out daily!
Export Business Model
"100% of our business comes from exports," says Clark. That means every single customer lives outside of the US. Online shopping is expected to grow, especially in the international marketplace. There is a demand for US brands. Clark says, "We ship a lot of shoes and designer items from Apple, Michael Kors, Hermes, Gucci, Louis Vuitton, Coach and a lot more."
To better serve their international customers, the company has launched franchisee partners in 8 countries: Azerbaijan, Cambodia, Kenya, Malaysia, Mongolia, the Philippines, South Africa, and Thailand. These partners provide consolidation service shipments in their country. They also represent the Kango brand and do local marketing to raise awareness. "Our partners overseas need to be the right people," says Clark. Through the partnerships, Kango and the franchisees support the local countries and create job opportunities.
Finding Partners and Growing Exports
In 2020, Kango was eager to open new franchise locations in Africa. They signed up to participate in Export Delaware's Business Trip to Africa in the Spring. The trip included international partner research, performed by Export Delaware's representative team in Africa, Zurcom International. "They did all the work I would normally have to do to find new partners," says Clark. "They handed us a list of vetted, potential companies on a platter!"
The next phase of the trip was to meet with the potential partners one-on-one. Due to the global pandemic, the trip was converted into a "virtual mission," and Kango met with over 20 potential partners over Zoom. Of course meeting in person would have been preferable, but the virtual meetings were the next best thing.
As a result, Kango Express signed franchise agreements with new partners in South Africa, Morocco, the Ivory Coast, and Tanzania. Since then, they've already sent their first shipment to South Africa. Orders are ready to go to Tanzania, and they will be shipping to the Ivory Coast soon.
Looking ahead, Clark says Kango has big plans to enter more countries in Africa and Latin America. This year, Kango is taking advantage of the Delaware Online Global Program to localize their website for five markets. This will raise awareness of their services and bring in more global customers. They received a STEP Grant to help cover the costs of the investment.
---
Categories: Expand
Related Topics: Delaware Online Global Program, Export Delaware Success Story, Gen Clark, Kango Express