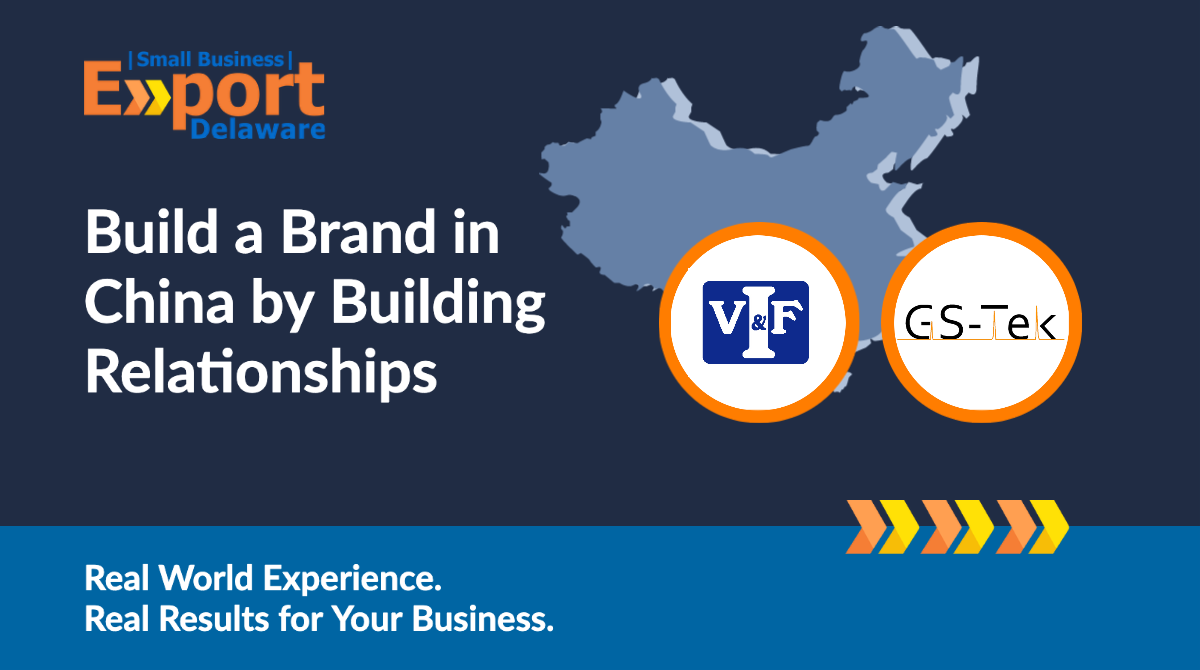 Build a Brand in China by Building Relationships
2/4/2022
When it comes to exporting, China may seem daunting. The language, business customs, and traditions are very different from the US. However, this nation should not be overlooked when it comes to your global business strategy. According to the ITA, China is the world's second-largest economy, following the United States. In fact, "China's economy is larger than those of the next four economies – Japan, Germany, the United Kingdom, and India – combined." That means there are a lot of opportunities for Delaware exporters in China!
"The Chinese market is growing at a faster rate than ours in the US," says Julio da Ponte II of Industrial Valves and Fittings in New Castle. "Consequently, we have a greater rate of return there."
Zack Ji, of Newark-based GS-Tek, agrees, "The major markets for our product are Asia and the USA," says Ji. "We sell more to the international market than the local market."
This article will share how these seasoned exporters have grown their business in China and reveal their strategies for capturing part of the market share.
Show Up to Make Connections
Industrial Valves and Fittings (IVF), a global distributor of electronic hardware and industrial specialties, has been exporting for decades. "Our export story began in the '90s. We got our feet wet learning how to export with help from the State of Delaware and the Port of Wilmington," says IVF Vice President Julio da Ponte II.
da Ponte's first trip to China was on a state-led trade mission. da Ponte admits that the thought of going there was overwhelming at first. "I'm a Delaware guy! I don't speak the language or know the local customs." Going with a group of experienced travelers helped flatten the learning curve for da Ponte. "It would have taken me two months to accomplish what we did in one week on that first trip."
"It would have taken me two months to accomplish what we did in one week on that first trip."
The trip was a success, and da Ponte returned with the help of a STEP Grant. "We appreciate the STEP Grant because it helps offset some of the costs of traveling," says da Ponte. In addition, IVF benefited from the State of Delaware's trade representative network. The trade reps plan one-on-one business meetings for each participating company. They help facilitate trip logistics and ensure participants get to every appointment on time. "This takes many headaches out of the process, so that we could focus on our goals instead of the travel details."
Build Trust to Strengthen Ties
Since his first trip to China, da Ponte has returned about half a dozen times. He has visited Beijing, Shanghai, Suzhou, Ningbo, Hangzhou. Each trip opened new doors and helped their team build trust and strengthen relationships. da Ponte says, "Trust comes from building history together, over time."
By continuing to travel, again and again, the IVF team demonstrated how committed they were to the local relationships in China. These face-to-face meetings showed that they were willing to go "above and beyond what others do." Fortunately, the STEP Grant program helped cover the costs of the long flights to China.
da Ponte says, "We don't want to give people a reason to look elsewhere for our products and services." The personal relationships they developed have established IVF in the local supply chains for years to come.
Cultivate Relationships that Last Decades
Zack Ji has been selling to China since 2001. Ji worked for Hewlett Packard, where he cultivated relationships with distributors and industry professionals in China. He went on to launch GS-Tek, a chromatography columns and accessories manufacturing company in Newark, Delaware. He travels to China roughly three times a year to strengthen the relationships forged there and continue developing new business.
"GS-Tek's products are known for good quality, good performance, and good prices," says Ji. "We meet the niche market needs of China, which gives us an advantage."
To help sell their products in China and other parts of the world, GS-Tek relies on distributors. "We used the STEP Grant Program to help us find new distributors and build initial relationships." They've now worked with their team of distributors in China for over ten years, and they have helped the company establish a favorable reputation in China.
"We used the STEP Grant Program to help us find new distributors and build initial relationships."
Ji says they were able to win big customers because of their local team. "We have very technical products, and the tech support and expertise of our team helps solve our customers' problems."
"There is a lot of opportunity in China, but you need a local team," says Ji. "The STEP Program can help you get started." GS-Tek has benefited from the STEP Program grants for the past six years. He has participated in several State-led trade missions and is now using STEP Grant funds to optimize the GS-Tek website for the Chinese audience.
Advice for Delaware Exporters
For Delaware manufacturers looking to export to China, Ji recommends identifying local distributors. "Our team is our advantage," says Ji. It's imperative to find the right partners and foster relationships with your distributors over the years. They represent your brand in the country.
da Ponte advises that you must be willing to travel! He encourages anyone interested to take advantage of the STEP Program and to work with Export Delaware. "They are a knowledgeable and energetic group of professionals who are willing to help you grow your exports."
---
Categories: Expand
Related Topics: Export to China, GS-Tek, Industrial Valves and Fittings