2022 Travel Guide
1/7/2022
Now is the time to craft your international marketing and export development strategy for the year. Trade shows such as Arab Health and Hannover Messe will host in-person exhibition halls once again. Many of the EU nations are welcoming vaccinated US travelers. In addition, the US is now welcoming fully vaccinated foreign nationals for the first time in 18 months. The global business community is optimistic that we can return to a "sense of normalcy" in business development activities next year.
We've created a travel guide to inform you of what's involved with international travel right now. We've included resources to look up and educate yourself on the requirements and restrictions for traveling around the world.
Check Travel Advisories:
Before you plan a trip, be sure to check the travel advisories from the US Department of State in your destination. The State Department considers many factors to determine the Travel Advisory level for each country, including "crime, terrorist activity, civil unrest, health, natural disaster/weather, and current events." They rate each country from 1 to 4, with four recommending "do not travel."
You can look up each country here. We recommend you check back every few weeks leading up to your trip. The State Department says, "Global COVID-19 conditions are dynamic." Conditions change frequently, and the risk level of your destination may escalate.
Know the Local Regulations:
Depending on where you're headed, you may encounter mandatory COVID-19 testing requirements, quarantines, travel restrictions, and closed borders. The State Department warns, "Foreign governments in any country may implement restrictions with little notice."
You can use the Travel Advisory page to look up each nation's local testing and quarantine requirements. Most countries require a negative COVID-19 test for entry. The requirements vary — some require a test within one day of travel. Others stipulate you must have a negative test within 96 hours. Different countries require different types of tests. If you did not take the correct COVID-19 test, you might be denied entry (even if you have a negative test result).
The Ministry of Health in many nations requires that incoming travelers complete Health Surveillance Forms. Usually, this is an electronic form that will generate a QR code. You may be required to show your QR code at customs upon entering the country.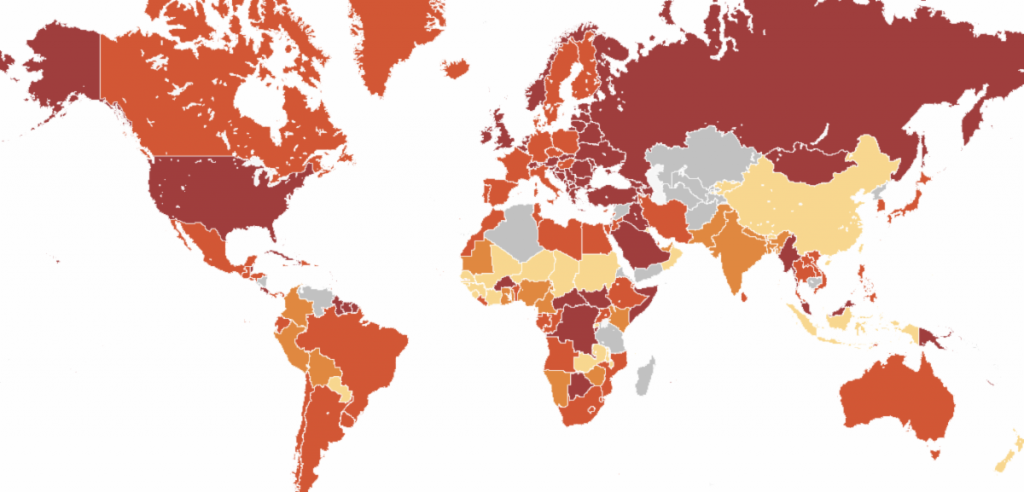 Getting Back Into the US:
All US citizens or foreign nationals must present a negative COVID-19 test before reentering the US. You are responsible for making arrangements to be tested before you fly home.
Those who test positive for COVID-19 will be denied boarding and may have to undergo a mandatory self-isolation at the overseas location for a number of days (usually ten days). If another individual stayed in the same hotel room as you, they might be required to quarantine as well.
You are responsible for any incurred expenses for quarantine. In some cases, you may self-isolate at the same hotel you stayed at during your trip. They may even provide a discounted rate for your quarantine. However, this is not guaranteed. Some countries will transport you to a designated quarantine hotel. Once you check in to the room, you will not be permitted to leave until the number of required quarantine days has passed. Food will be delivered to your room.
Recovered patients will not be allowed entry into the US until they can present a negative COVID-19 test.
To prepare for your trip, make sure you understand the local quarantine requirements, know where the COVID testing sites are located, and have a backup plan just in case.
Foreign Nationals Visiting the US:
As of November 8, 2021, travel restrictions were lifted to allow fully vaccinated non-US travelers to enter the country. Before boarding the plane to the US, travelers must present a negative COVID-19 test within one day of departure.
International Travel FAQs
What happens if I test positive before my flight departs the US?
You will not be permitted to leave the country. You must self-isolate for the required number of days per local regulations in your county. You may reschedule your trip once you can present a negative COVID-19 test.
What happens if I test positive while overseas?
You will not be permitted to fly back home to the US at that time. You will need to fulfill the country's self-isolation requirements (typically ten days). You will not be permitted to enter the US until you can present a negative COVID-19 test. You are responsible for any incurred expenses for quarantine. Some countries have designated quarantine hotels where you may stay during the isolation period.
Will travel insurance help?
We recommend you purchase travel insurance for any overseas travel in 2022. Be sure to read the fine print, so you understand exactly what your plan covers. Some plans offer "Epidemic Coverage" to cover unexpected costs of traveling during the COVID-19 pandemic.
What happens if the borders close before my trip starts?
You will no longer be able to travel to your destination. While some airlines and hotels may issue a credit or refund, this is not something you can expect. We recommend purchasing travel insurance to cover the associated costs of unexpected trip cancellations due to COVID-19.
Is the COVID-19 vaccine required?
The COVID-19 vaccine is not required to enter every country. Look up the specific vaccine and local requirements for your destination before travel. We recommend you follow all CDC guidelines for each destination. They can be found here.
If you have contracted COVID-19 in the last six months and are not eligible to be vaccinated at this time, you may still be eligible to enter countries around the world. You will need to show proof that you contracted COVID-19 and the time frame in which you did.
Helpful Links
---
Categories: Global Blog
Related Topics: travel advisories, travel guide, travel recommendations