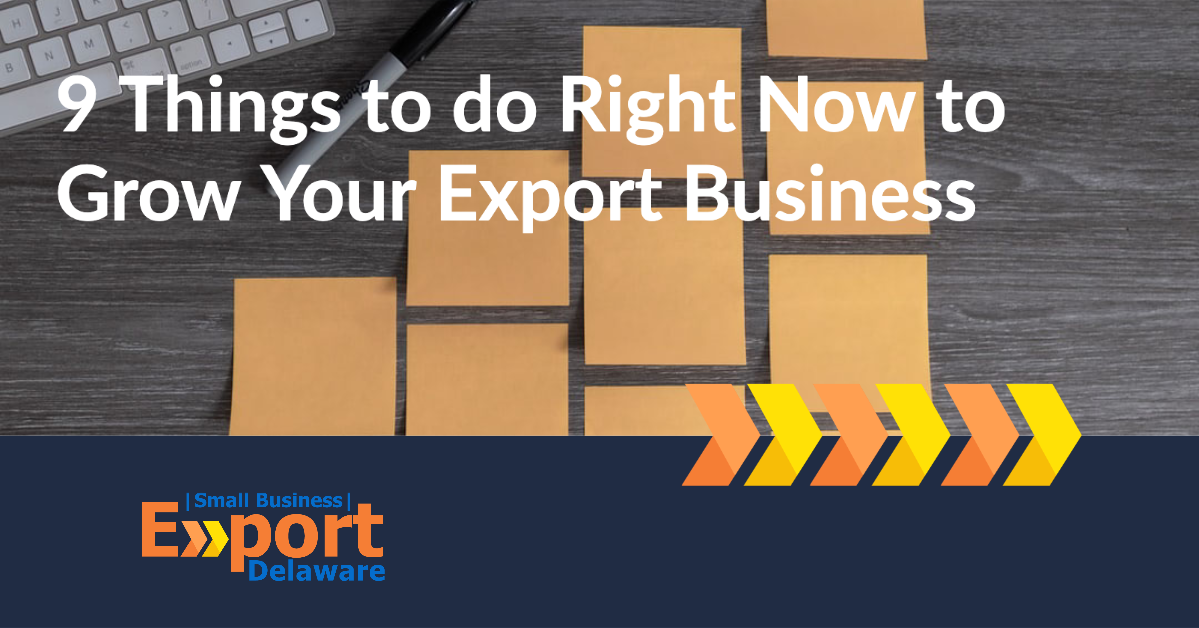 9 Things to do Right Now to Grow Your Export Business
5/5/2020
These are challenging times for our community and our Delaware small businesses. Export Delaware continues to operate and assist all businesses in Delaware with their global business needs during this difficult period. There are still many ways we can move forward so that international business development activities can proceed.
The future of your business depends on how you navigate through this period, and pivot for future growth. Many view this current crisis with fear and may feel that now is not a good time to focus on developing international business. It is a difficult time, but we must continue to work so we don't miss opportunities. There are many business development activities we can do now, while we must stay in the US.
Global supply chains will be forever changed as a result of COVID-19. No company or organization in any part of the world will ever have a sole source supplier in one country again. This is a critical time to grab some of the market share.
Just because travel is limited and unsafe now, doesn't mean we can't do things to grow exports and find new customers overseas. It's time to put on your "business development" hat and begin brainstorming ways to keep things moving forward. Here are nine things you can do right now to grow your export business (and the free resources and grant funds that you can take advantage of right now).
1. Translate Your Product Manual
More languages equals more customers. Translating your product manual means an improved customer experience and repeat business. Now would be a great time to get your product manual(s) translated into a foreign language.  The STEP Grant can cover up to $6,000 of the expenses of a translator and/or firm that provides this service for you.
2. Optimize Your Website for an International Audience
Help your international prospects, customers, and partners find you, understand your company, and do business with you by giving them an online local user experience in their language and market. Your website may need more than just translation. Take it one step further with multilingual search engine optimization. Our partner, IBT Global can help with this, and the STEP Grant can cover up to $6,000 of the costs associated with this activity.
3. Design Marketing Materials for Your International Audience
Create the best first impression with custom marketing collateral for each of your target markets. You can get your flyers, brochures, and pop-up banners created and translated for your future customers overseas. The STEP Grant can help cover up to $6,000 of the expenses for the design fees (note, grant funds may not be used for printing).
4. Obtain Your CE Mark and Complete Compliance Testing
CE marking is a certification mark that indicates conformity with health, safety, and environmental protection standards for products sold within the European Economic Area. This opens up the opportunity for you to sell your products in many other countries worldwide. The STEP Grant can cover up to $6,000 in fees associated with compliance testing and CE Mark registration.
5. Start the Application for International IP Protection
Make sure your assets are protected when doing international business. The SBA states that "inadequate protection of intellectual property rights in foreign countries cost U.S. small business exporters one dollar for every three dollars of revenue gained." Thus, you may be compromising profit margins if you're neglecting IP protection measures. Read more about the application process here. STEP Grant funds may be used to cover associated fees.
6. Follow Up From Previous Business Trips
You invested time and money to travel the world before the pandemic hit. Don't let your past business trips go to waste! The key is in the follow-up. Take some time to reach out to your international contacts and see how they are doing. A genuine interest in their health and wellbeing goes a long way, and this may open up a door for new business. If you need expert help with this, our state trade representatives are available to work with your business in providing market research, distributor and customer identification, and virtual zoom meetings for you with clients in their countries. If you are interested in having a call with any of our trade representatives to discuss your needs, please contact Beth Pomper directly at Beth.Pomper@delaware.gov.
7. Take a Professional Sales Training Course
Learn to sell your product overseas, confidently. We have created an international sales training program just for Delaware exporters. This program will be conducted by a professional firm that has trained many sales executives of Fortune 500 firms. If you are interested in participating in our next cohort, please let our team know ASAP by contacting Beth Pomper at Beth.Pomper@delaware.gov.
8. Perform International Market Research
Educate yourself on what's happening around the world, and how international markets have been affected by COVID-19. So much has changed and this means there are new opportunities for your business. Take some time to dive into the research and refine your international marketing strategy.
9. Sign Up for Export Training
Do you have an international marketing plan? How about an export plan? If not, now's the time to develop one. We've partnered with DEMEP to bring you ExporTech, a three-part workshop to help you develop your international growth plan. In only three virtual sessions, over three months, you will develop a vetted, actionable export growth plan. The program includes over 24 hours of personalized coaching from seasoned international business experts. Join the waitlist for the next ExporTech program here.
---
Categories: Expand Global Blog
Related Topics: CE Mark, IP Protection, STEP Funds, Translation