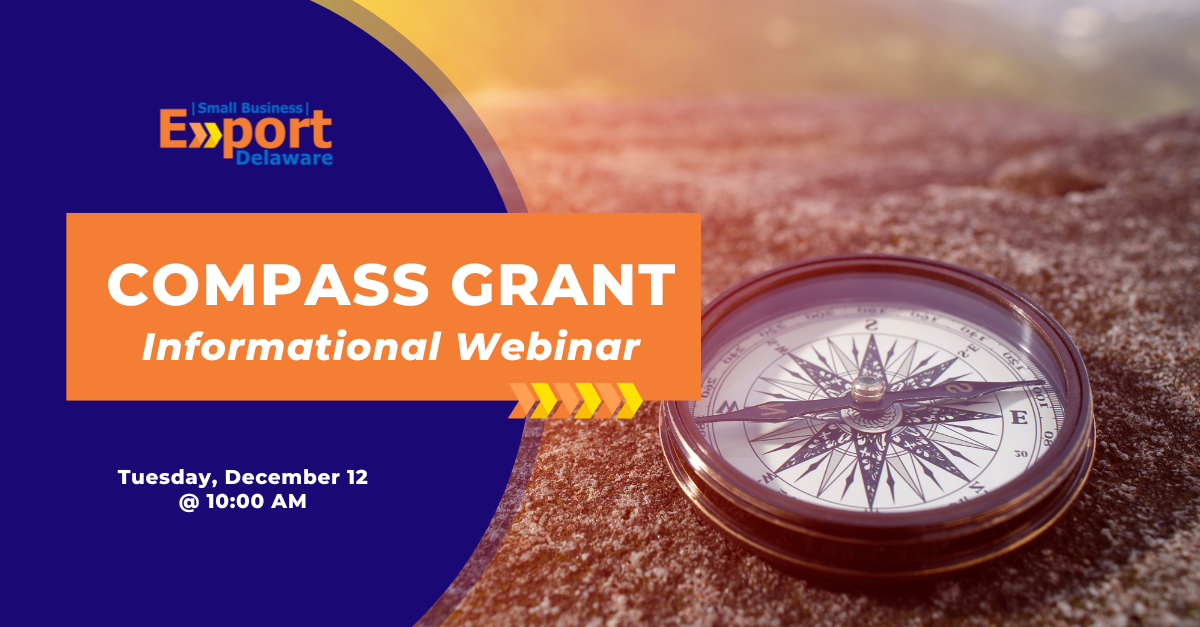 Introducing Export Delaware's new Compass Grant
11/1/2023
The Compass Grant is a brand new grant program from the Delaware Department of State that helps Delaware small businesses navigate selling their products or services around the world.
Compass Grant Informational Webinar
Tuesday, December 12, 2023 at 10:00 AM
Are you seeking financial support to help your organization grow your sales overseas? This interactive webinar will provide you with essential insights into the brand new Compass Grant, guiding you through the application process and eligibility criteria. The Export Delaware team will answer your questions and help you navigate the grant with confidence. Don't miss the opportunity to chart your course toward obtaining the funding you need to expand around the globe!
About the Compass Grant
Delaware small businesses may apply for a Compass Grant to support international travel or business development activities. This grant will have greater flexibility than previous programs. Compass grant funds can be used to reimburse up to 50 percent of all pre-approved, eligible, international marketing expenses, up to a maximum of $10,000 per fiscal year, per company.
This grant funding may be used to support international marketing efforts such as:
Booth fees for exhibiting at a tradeshow overseas
Travel expenses (hotel and airfare) for visiting potential clients or distributors in another country
Fees to work with the US Commercial Service on International Partner Search
Fees associated with obtaining your CE Mark
Expenses for translating your product marketing material into another language
Expenses for optimizing and localizing your website for a foreign market
And much more ….
Who Should Attend
This webinar is appropriate for:
Any manufacturer or professional services provider interested in learning more about increasing their sales to other countries.
Current exporters looking for additional funding to increase their sales.
If you're not sure if you qualify, join us on the webinar to find out! You'll have the opportunity to ask questions specific to your company.
About our Speaker
Beth Pomper
Director, International Business Development
Export Delaware
Beth Pomper is an international marketing and sales professional with 30 years of progressive leadership experience in support of global business activities. She is responsible for the Strategic Export Plan for the State of Delaware and has worked to implement it since 2014. Beth has established Delaware's global representative network, with 12 foreign offices servicing 50 countries. She has assisted nearly 100 Delaware companies launch and expand their export sales, generating over $375 million in business and creating nearly 100 jobs in the state.
About Export Delaware
Export Delaware is an initiative of the Delaware Department of State. We are the State's official export resource for Delaware's small and medium-sized businesses. We are consistently ranked among the top state export programs nationally in terms of results for our companies. If you are a new exporter or want to explore new markets, we can help you get started.
Export Delaware assists Delaware companies that seek to export their products and services. Our experienced staff provides on-site guidance to businesses that are looking to explore export opportunities or to expand their current export activities to new markets.
Some of the most successful exporters are innovative small- and medium-sized businesses (which account for 98 percent of U.S. exporters). Businesses that export have faster-growing sales, create more jobs and are less likely to go out of business than non-exporting establishments.
---
Categories: Expand
Related Topics: Compass Grant