Webinar: Selling to Germany – Opportunities for Delaware Small Businesses
1/12/2023
Live from Frankfurt with Markus Wellmann and Anette Hass of PM&P join us for a webinar on Tuesday, March 7 at 10:30 AM (EST). 
Did you know that the German economy is the fourth largest in the world? The nation accounts for nearly a quarter of the European Union's GDP. Germany is considered a gateway to the European Union.
Learn new opportunities for Delaware products and services as Europe emerges from the pandemic. Due to high energy costs in Europe, higher than ours here, American products are even more attractive and affordable.
As home to some of the world's largest trade shows such as Medica, Hanover, and Analytica, thousands of international business professionals come to Germany every year.
Are you planning to attend a trade show in Germany? Work with Export Delaware and the PM&P team to organize additional business meetings for you surrounding the show. We will work together to develop a customized program for you.
We are prepared to support you in your efforts, and grant funds may be available to help offset the costs (offered to eligible Delaware small businesses only, pending availability).
Who Should Attend?
This webinar is ideal for sales professionals (representing Delaware-based companies) looking to get new sales in Europe and beyond. International business experience is not required.
What You'll Learn:
Current sales opportunities and growth industries in Europe coming out of COVID-19
Impact of the Ukraine War and important changes to be aware of
Market background and key sectors
About the State of Delaware's Trade Representative team in Germany and how they can support your business there
Overview of the trade show opportunities in 2023
Available funding opportunities that may cover some of the trade show fees/costs of developing business in Germany
Agenda:
Introductions (5 minutes)
Overview of new opportunities post COVID and the impact of the war in Ukraine (30 minutes)
Q&A (15 minutes)
About our Speakers: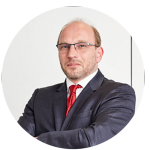 Markus Wellmann
Markus Wellmann is a Senior Consultant & Project Manager at PM & Partners. He supports companies looking to grow their sales in Germany through market investigation and analysis.
Anette Hass
Anette Hass is a Senior Consultant at PM & Partners and has helped to lead several Delaware business trips in Germany. She helps Delaware businesses explore strategic business development efforts in Europe.
Germany Market Overview:
4th largest economy in the world
Accounts for 24.7 of the European Union's GDP
Germany is also the United States' largest European trading partner
6th largest market for U.S. exports
Source: Germany Country Commercial Guide from the International Trade Administration
---
Categories: Expand Global Blog
Related Topics: Anette Hass, germany, Markus Wellmann, PM&P, webinar