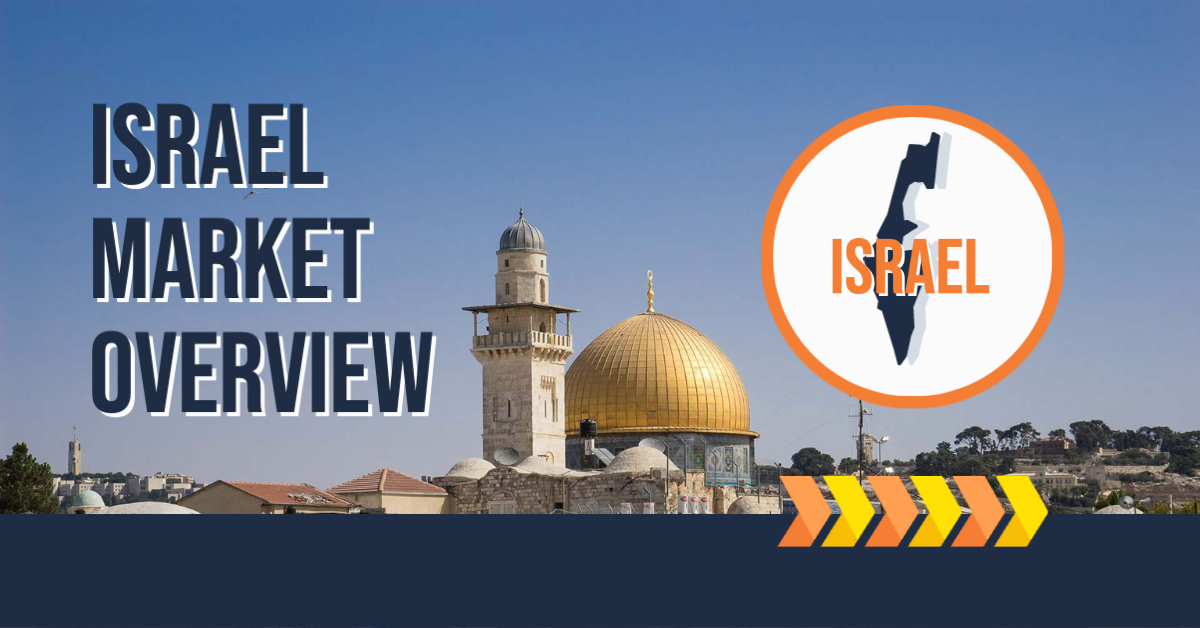 Israel Market Overview
5/3/2022
Did you know that Israel is the US's second-largest trading partner in the Middle East? This nation has built a global reputation for innovation and successful startups. In fact, Israel is the leader in startups outside of Silicon Valley and has been given the nickname, "Silicon Wadi."
According to Trade.gov, "Israel has a strong economy, led by an export-oriented high-tech sector and a spirit of innovation that continues to attract interest from U.S. companies looking for investment, acquisition and partnership opportunities."
Since the US-Israel Free Trade Agreement was signed in 1985, bi-lateral trade between the two countries has increased by six times. Most non-agricultural tariffs have been eliminated, making this nation easy to enter to grow exports. The US is Israel's largest trading partner and businesses there are receptive to doing business with US companies.
When it comes to market entry strategy, Trade.gov recommends, personal connections, "it is preferable to be referred by local contacts who can facilitate an initial introduction." Face-to-face visits are preferred by the local business culture, with the goal of establishing long-term, mutually beneficial relationships.
Quick Facts:
$20.1 billion exports from the US to Israel in 2019
$14.4 million exports from Delaware to Israel in 2020
300 R&D centers in Israel. American companies constitute about 55% of all R&D centers in the country
19% of global investment in cybersecurity
#1 globally in R&D expenditures per GDP
Key Sectors:
Environmental Technologies – challenges with water supply in Israel have forced a strong domestic water technologies industry. The Israeli government places a high priority on investments into its water infrastructure. Israel's recycling industry is underdeveloped. The Ministry of Environmental Protection has a strategic plan to invest $1.1 billion to bring sustainable solutions to the country.
Safety and Security – Israel's current imports of safety and security products are $1.2 billion. According to the ITA, this sector is "sophisticated, highly competitive, and the market is price sensitive." Israel's Ministry of Public Security is the number one buyer of equipment and services in this sector, with an "annual procurement budget estimated at $1.1 billion." Leading sub-sectors include physical and perimeter security equipment and technology, police equipment, and first responder communications.
Information Communication Technology (ICT) – In 2019, Israel imported $365.8 million in the ICT Trade Data sector alone. Leading sub-sectors include defense-related R&D, software, telecommunication, and AI. Corporations such as Intel, IBM, Google, Cisco, Motorola, Philips, Apple, and many others have invested and set up research centers in Israel to take advantage of the local talent.
For more information about key growth sectors in Israel, check out these resources from the ITA here:
Delaware's International Trade Representative in Israel
Elysa Rapoport serves as Export Delaware's trade representative in Israel. Elysa specializes in trade, exports, marketing, and strategic communication. As the Israel partner of OCO Global, Elysa is committed to helping Delaware small businesses identify, develop and promote trade and economic opportunities in Israel. Australian born, Elysa has lived in Israel since 2009 and speaks fluent English and Hebrew. She has over 15 years of experience across the hi-tech, government, and non-profit sectors. Elysa holds a Bachelors's in International Relations from the University of New South Wales, Australia, and a Master's in Political Communications from Tel Aviv University.
If you are interested in growing your exports in Israel or would like to get in contact with Elysa, please reach out to our team at export@delaware.gov.
Upcoming Business Trip
Export Delaware invites Delaware small businesses to participate in a business trip to Israel to meet new customers and potential partners. Meeting face-to-face with prospective customers is critical to establishing new business relationships around the world. Let us help you make the right contacts overseas and achieve new international sales. Business meetings will take place in Tel Aviv from September 11-13, 2022. If you are interested in participating in the trip, contact us at export@delaware.gov.
---
Categories: Expand
Related Topics: Elysa Rapoport, Israel, OCO Global, Tel Aviv