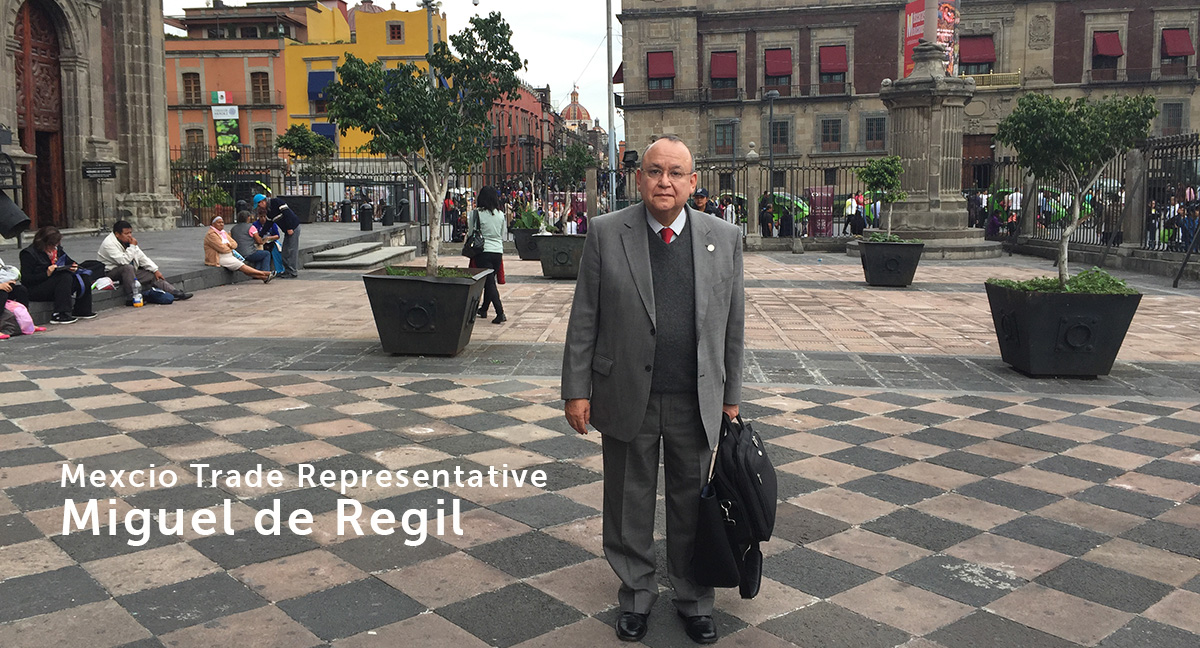 Delaware's Trade Representative Office in Mexico and Colombia
9/12/2017
Export Delaware's trusted trade representative in Mexico and Colombia is Miguel de Regil of Raze Trade Consultants. Miguel brings more than four decades of international trade experience to the position, with extensive knowledge of consumer and industrial markets throughout Latin America.
Miguel earned his MBA from the University of the Americas in Mexico City and has gone on to a successful career in marketing and business development in the region, including tenure as the international sales director of Rubbermaid. He has years of hands-on experience in marketing, field sales and management in Mexico and the Caribbean, as well as Central and South America. This experience, coupled with his extensive network, make Miguel an ideal liaison to assist Delaware companies identify opportunities and provide support in the region.
Why Colombia?
Colombia is Latin America's fourth-largest economy after Brazil, Mexico, and Argentina, with approximately 49 million inhabitants. Major security improvements and steady economic growth in the country have increased its commercial and investment ties to the United States, Europe, Asia and the rest of Latin America, making it an attractive prospect for Delaware companies looking to grow their business overseas.
The United States is Colombia's largest trading partner and Colombia was the 22nd largest market for U.S. exports in 2016. Colombia's ranking as an export market for U.S. agricultural products jumped from 24th place in 2011 to 12th place in 2016. Agriculture exports to Colombia from the United States were valued at USD 2.38 billion in 2016, more than double their 2011 value. Cereals, especially corn, saw the greatest gain in real terms. Other agricultural products of interest include pork, chicken, seafood, soy products, dairy, and beans.
Other U.S. exports to Colombia that have enjoyed significant growth since the implementation of the U.S.-Colombia Trade Promotion Agreement (TPA) in May 2012 include aircraft and aircraft parts, which benefited from the elimination of a five percent tariff. These exports earned an average of nearly USD 700 million per year over the period 2012-2016, up from USD 334 million in 2011. Exports of pharmaceutical products, which amounted to USD 200 million in 2011, have averaged USD 270 million per year under the TPA.
Other opportunities for U.S. exporters include: automotive parts and accessories; computer hardware and software services; IT equipment and services; electrical power systems; safety and security equipment; food and beverage processing and packaging equipment; medical equipment; plastics materials and resins; oil and gas equipment; mining equipment; and franchising.
Why Mexico?
The U.S. and Mexico traded $534 billion worth of goods and services in 2014. The North American Free Trade Agreement (NAFTA) continues to boost cross-border opportunities, making Mexico the second-largest export market for the U.S.
Companies capitalize on the 2,000-mile border between the countries to move 80 percent of the goods traded between the nations with low-cost trucking. Some $1.4 billion in goods crosses the border daily.
Production-sharing is a popular business model for American and Mexican companies, allowing U.S. manufacturers to make 40 percent of the components of goods imported from Mexico. This means that 40 cents on every dollar spent on Mexican imports actually stays in the US supporting local jobs and export activity.
Mexico is the second-largest export market for the U.S. and a top export market for Delaware products and services. Mexico purchased over $60 billion in U.S. products last year in Delaware's top industries of bioscience, chemical, information communications technology (ICT) and agriculture sectors.
Recent government spending and strong private consumption in Mexico is driving unprecedented opportunities for Delaware businesses, especially in the Bioscience, Chemical, Agriculture and Information/Communication Technology (ICT) industries. Mexico's IT market is expected to grow to $393 billion in 2018 as a result of the government's investment in IT solutions to improve tax collection, health services, trade and security. The Mexican Government will be increasing broadband to improve internet connectivity for small and medium companies in rural areas. This will boost ICT demand significantly.
In the healthcare industry, Mexico is the top medical device importer for Latin America. Last year, the country purchased $3.5 billion in medical equipment from U.S. manufacturers. In the coming years, the country's 4,700 hospitals will make significant investment in medical equipment.
---
Never miss an event or update: subscribe to our newsletter
---
Categories: Expand Global Blog
Related Topics: Colombia, expand to Mexico, Go global, grow business overseas, Growth, Meet the Reps, Miguel de Regil, Trade Rep