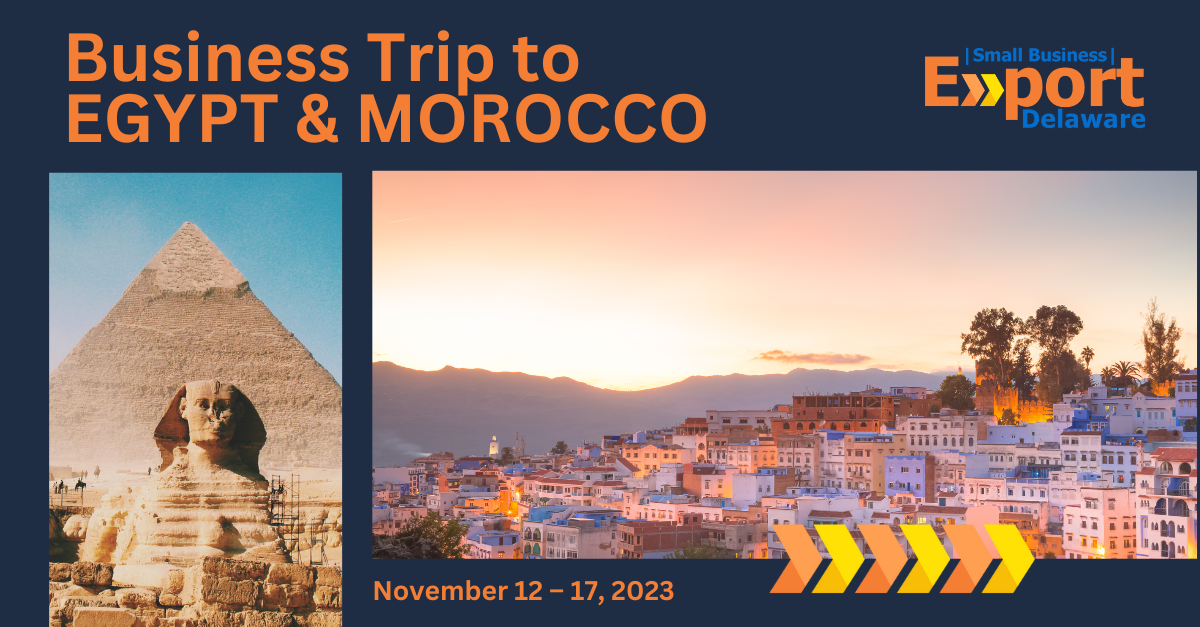 The Number One Market for Bioscience in Africa
8/10/2023
Delaware Bioscience companies should consider Morocco — the leading African country for pharmaceutical manufacturing. Export Delaware is headed to Morocco and Egypt in November. We invite you to join us (at no cost) to connect with new customers and expand your business.
We know that meeting face-to-face with prospective customers is critical to establishing new business relationships around the world. These trips are designed to help you make the right contacts overseas and achieve new international sales!
When you participate in a business trip with the State of Delaware, our team will arrange business meetings with distributors, agents, or customers according to your needs — all specific to your company. State professional trade representatives in country will book a full schedule of prospect meetings for your business. Preparation session, in-country briefing and follow-up assistance after the trip will support your efforts to gain new customers.
Why Egypt?
Egypt is the top export market in Africa for US goods. With a population of over 103 Million and a GDP of $402.8 Billion, there are many opportunities here for US products and services. The US and Egypt Bilateral Investment Treaty has been in effect for over 40 years, which helps resolve trade disputes between the two nations if they arise.
There are opportunities for US exporters in the following sectors: information, communications and technology, infrastructure, medical equipment, renewable energy, safety and security, water and environment, education, and training.
Why Morocco?
Morocco is the leading country in Africa for pharmaceutical manufacturing. If you are a bioscience company and have products that can be used in this industry, Morocco could be a great opportunity for you.
Morocco is a favorable place for US businesses to sell products and services. According to the International Trade Administration, US exports were over $ 2.8 billion in 2021 (up by 55% from 2020). The US-Morocco Free Trade Agreement eliminates tariffs on 95% of consumer and industrial goods. Intellectual property, trademarks, and patents are protected under this free trade agreement, lowering the risk of entry.
Leading opportunity sectors include energy, infrastructure, aerospace, healthcare, safety and security, telecommunications, education, and training.
Trip Itinerary
Nov. 10: Arrival in Cairo, Egypt
Nov. 11: Business Briefing
Nov. 12-13: Business Meetings in Cairo
Nov. 14: Fly to Casablanca, Morocco
Nov. 15-17: Business Meetings in Casablanca
Nov. 18: Depart for the US
Please note that business meetings begin Sunday, November 12, due to the work week starting Sunday in Egypt. Morocco has the same work week we do in the US, allowing time for additional meetings.
Trip Details:
Your trip includes personal business meetings with distributors and customers, according to your needs. This is done with the assistance of Export Delaware staff and experts in Egypt and Morocco at no cost to you.
Personal car and driver to take you to all your business meetings at no cost to you.
Personal interpreter to accompany you on your meetings at no cost to you.
Translation of your sales presentation into French for Morocco meetings at no cost to you.
Preparation session, in-country briefing and follow up assistance by Export Delaware and our teams in Egypt and Morocco.
Financial grants provided by Export Delaware to assist with part of your travel costs.
Note, a passport with at least six months of validity following the dates of the travel is required.
Cost and Funding Assistance
Businesses are responsible for their own air, hotel, meals, and incidental expenses. Export Delaware will provide a financial grant to assist with travel costs for eligible Delaware businesses.
Apply
If you are interested in participating, email us at export@delaware.gov.
---
Categories: Expand
Related Topics: David Garay, egypt, Morocco