New export opportunities in Europe, Asia, and South America
9/29/2017
Delaware businesses discuss new markets and export strategies at Global Delaware's Meet the Reps event
Local companies looking to export to Europe can get a strong foothold in Ireland.
That was the message Irish trade rep Declan Barry brought to Delaware business owners who attended Global Delaware's Meet the Reps event last week.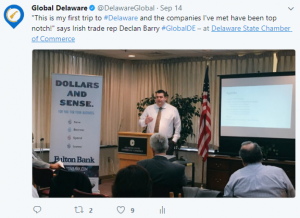 Ireland is an ideal place to start because it offers lower costs and lower risk than other EU countries, similar language and culture, and is enjoying a renaissance of business and consumer confidence, Declan told attendees. The country is posting the highest growth rates across all Eurozone states, and will soon be the only post-Brexit native English-speaking country.
One of Global Delaware's newest trade representatives, Declan shared a detailed presentation about developing an export strategy for Ireland, and met one-on-one with Delaware companies to discuss export opportunities in the Emerald Isle.
"Delaware small and medium-sized businesses will find excellent opportunities in software, medical technology, financial services, pharma, agri-food, big data and analytics, and industrial automation," Declan noted. "Companies that offer products and services that can compete on quality and innovation are well-suited for opportunities in Ireland."
New markets mean new prospects
Sarath Menon, Global Delaware's new trade rep for Malaysia and Singapore, provided attendees with information about opportunities in South East Asia.
South East Asia has a population of 630 million, with more than 50 cities with populations over 500,000, Sarath told attendees. The regionally integrated market is the 7th-largest economy in the world, and is projected to grow by more than 4.5 percent over the coming decade.
Sarath provided details about market conditions and opportunities in Singapore, Malaysia, Indonesia, Vietnam, the Philippines and Thailand. "You should have an open approach to the region," Sarath recommended. "Consider agency/distributor agreements, technology transfer, joint ventures, strategic alliances as possible entrees to South East Asia."
Veteran trade rep Miguel de Regil was also on-hand to talk about Colombia, another new target market for Global Delaware. Miguel, who has worked successfully with Delaware companies to develop export opportunities in Mexico over the last three years, explained to attendees why Colombia has become an increasingly attractive export market.
A Free Trade Agreement between Colombia and the U.S. took effect in 2012, immediately eliminating tariffs on over 80 percent of U.S. exports of consumer and industrial products to Colombia, Miguel noted. The International Trade Commission (ITC) has estimated that the tariff reductions will expand exports of U.S. goods alone by more than $1.1 billion, and will increase U.S. GDP by $2.5 billion.
Colombia has experienced steady economic growth in recent years, and is currently the U.S.'s 22largest trading partner. Miguel noted that export opportunities include automotive parts, electrical power systems, food and beverages processing and packaging equipment, medical equipment, raw material for the plastic and chemical process, mining equipment, IT equipment, hardware and software services. "There is a lot of potential for Delaware companies in Colombia," Miguel said. "If you learn about the culture, are open to travel, and willing to invest time and money to enter the market, your chances of success are excellent."
Financing available for Delaware company export efforts
Delaware has once again received a State Trade and Export Promotion (STEP) Program award from the Small Business Administration. This year's award of $221,713, plus the matching State funds of $73,904, bringthe total available for qualified export activities to $295,617.
A significant portion of the grant is to directly reimburse small- and medium-sized companies for money spent on eligible, pre-approved export expenses such as international travel, trade show activities, international marketing materials and overseas interpreters.
STEP grant funds can be used by companies to hire interpreters and cover other costs associated with business trips to target countries, such as translating marketing presentations and paying for in-country transportation.
"We have what you need to launch your export strategy. Reach out and let us help you get started!"
"We have done the market research, found excellent trade reps, expanded our number of target markets, and secured financing for Delaware businesses," said Delaware Export Advisor Beth Pomper. "We have what you need to launch your export strategy. Reach out and let us help you get started!"
---
Never miss an event or update: subscribe to our newsletter
---
Categories: Expand Global Blog
Related Topics: Delaware International Trade Reps, Expand to Asia, Expand to Europe, Expand to South America, export, Go global, new markets, STEP Grant